Day 3 Diary
Stage 3 – Logronos – Burgos - 22/09/2006 - 110Km
Distance 80 miles (128km). Feet climbed 4,500 Cyling Time 6 hrs 26
If Pamplona was bad, getting out of Logronos was much worse. Our intrepid adventurers spent about an hour on the local equivalent of the Westlink. They wound up on the camino path, a golf course and several dead ends. Eventually they got under way on the N120, which is a main road, carrying heavy traffic. Before lunch Larry had a puncture (first to date), Mairead had gear problems, everyone battled a nasty headwind and unpleasant traffic.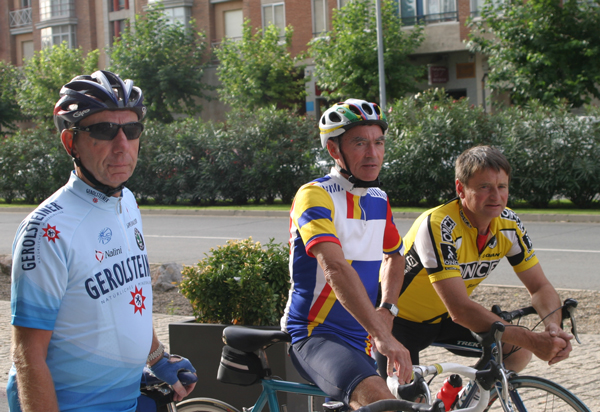 The boys show dismay at Oonagh's dress sense (see below)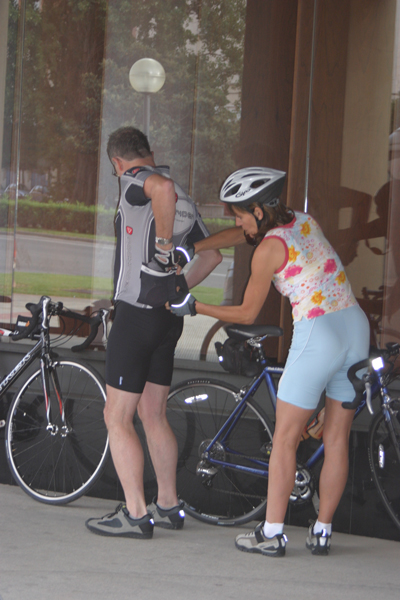 Oonagh adjusts Stephen's power pack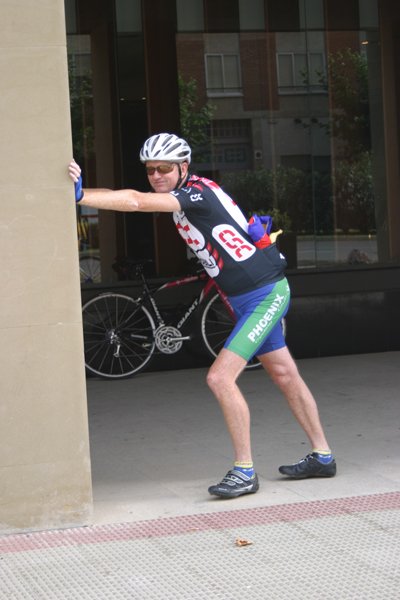 Tulough tries to adjust the hotel wall to get the van out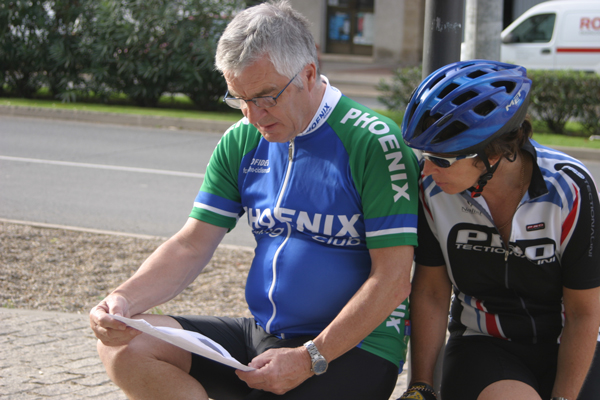 Larry and Suzanne panic over the day's route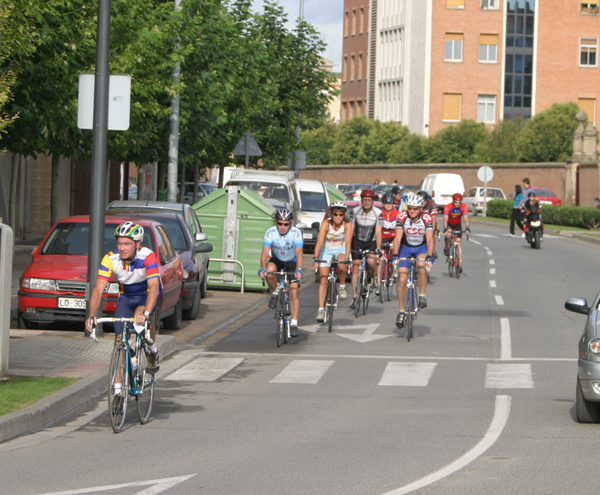 Barney leads off day 3, for a four lap criterium around Logronos westlink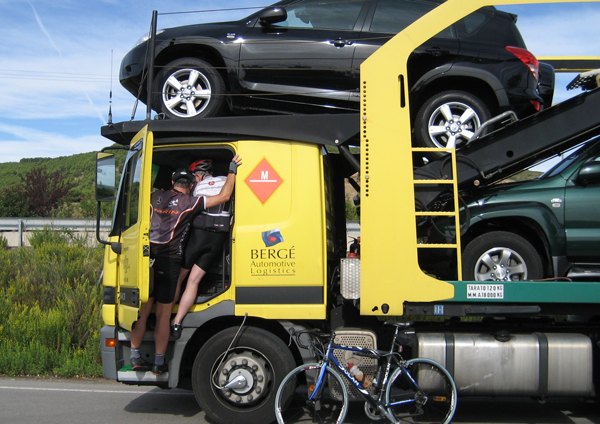 "Change of plan, can you take 12 bicycles to Burgos?"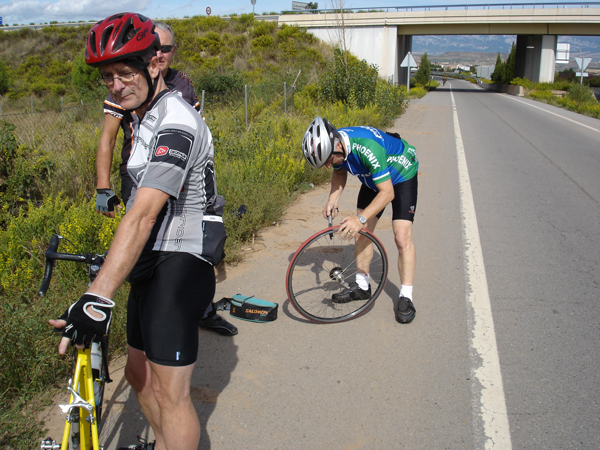 Larrry fixes the first puncture of the tour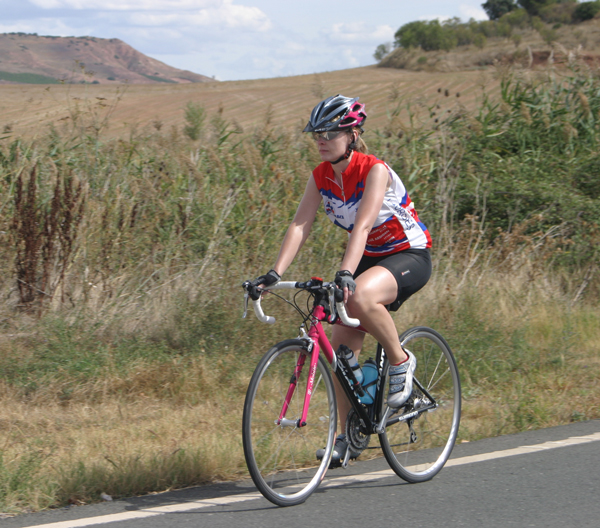 Mairead back on the road after Jimmy fixed her gears
Lunch was in at Santo Domingo de la Calzada at 50 kilometres. Unfortunately the famous church with the caged chickens was closed from 11am to 4 pm for lunch.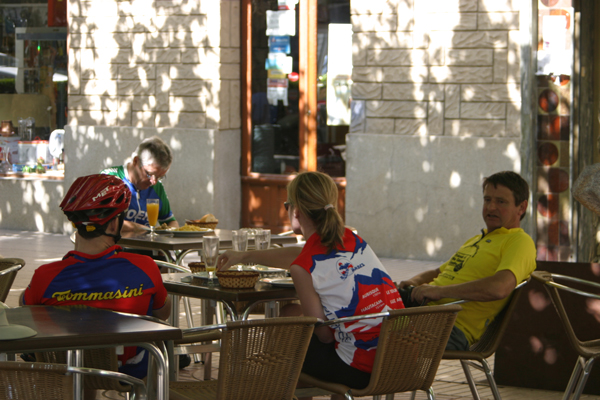 Mairead, aghast, asks Larry what he is fiddling with at lunch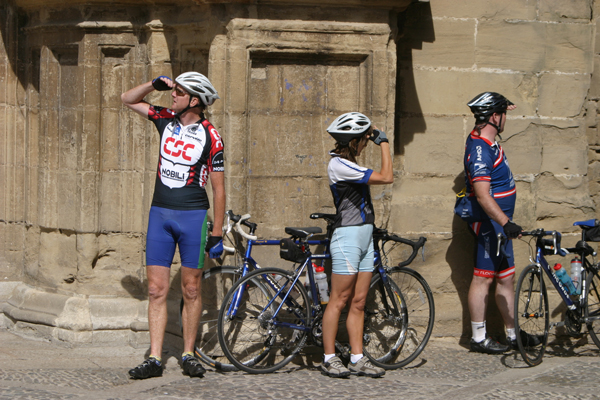 Searching for caged chickens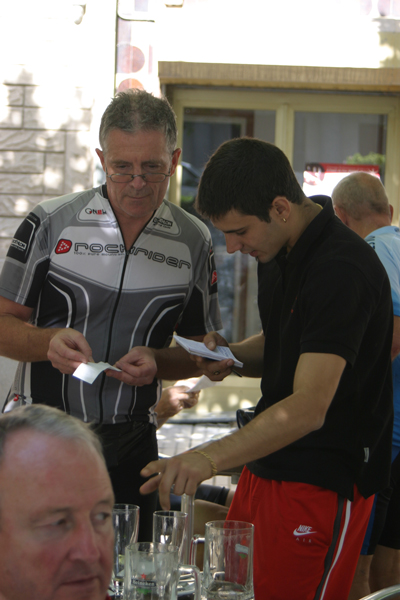 Thinks "lying cheating dog"
Says" My good man, might I point out that we had 12 beers and 14 portions of lasagne for lunch , not 34 beers and 17 lasagnes as you are perhaps suggesting"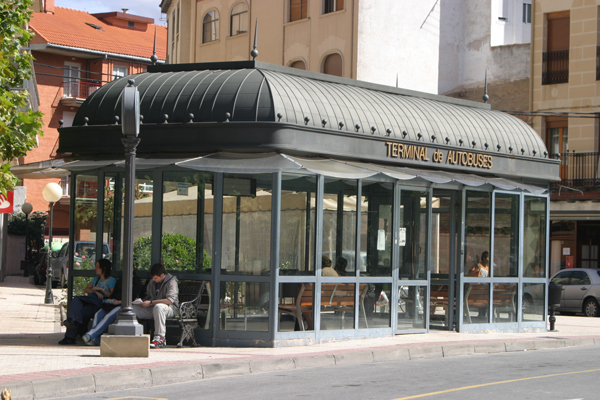 Now that's what I call a bus-stop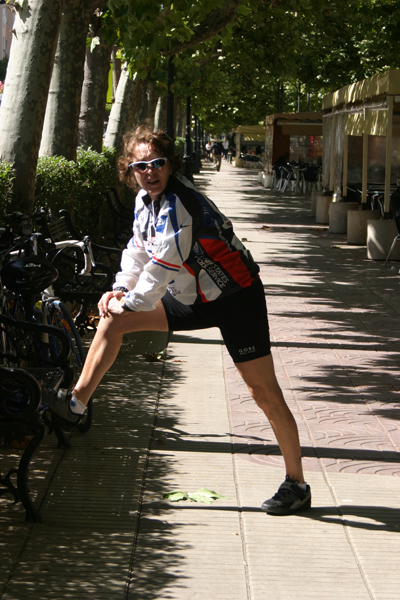 Susie trashes the seats in the square to loosen up after lunch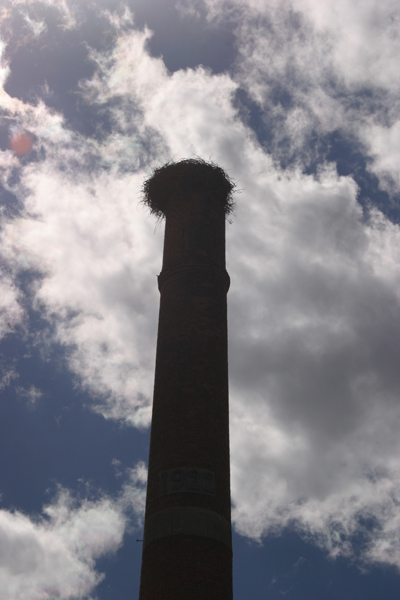 Stork's nest on a chimney, just after lunch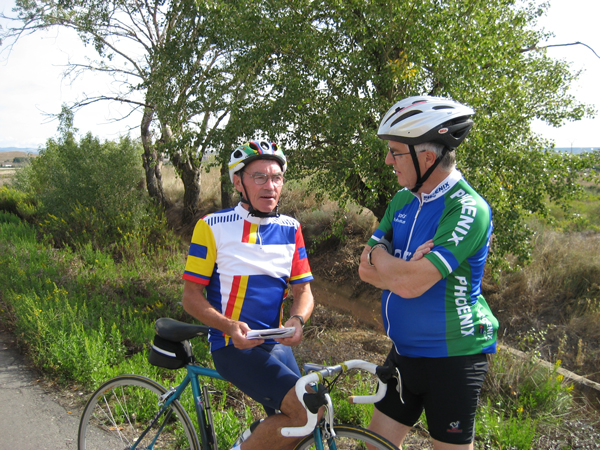 Barney quietly warns Larry about his behaviour at lunch, no more scratching
Greatly disappointed over the missing chaickens, our cyclists headed out after lunch climbing almost continuously to reach Burgos at an elevation of 860 metres (2830ft), at after 6pm. Here the cathedral is magnificent and the hotel is close by, on the camino route.
Dinner with sing-song ensued. There is no doubt that the cyclists are under severe pressure, but everyone finished well and they are looking forward to slightly easier days up to the rest day.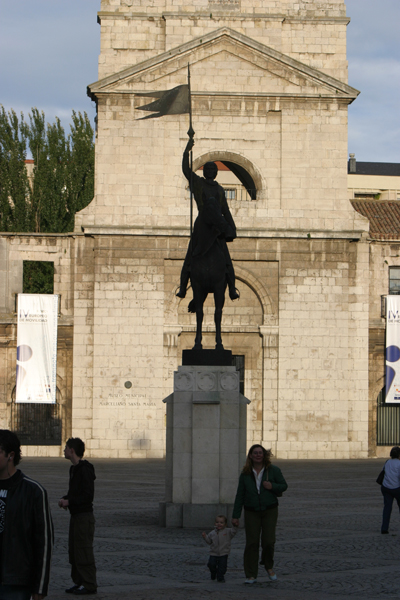 Statue of El Cid in Burgos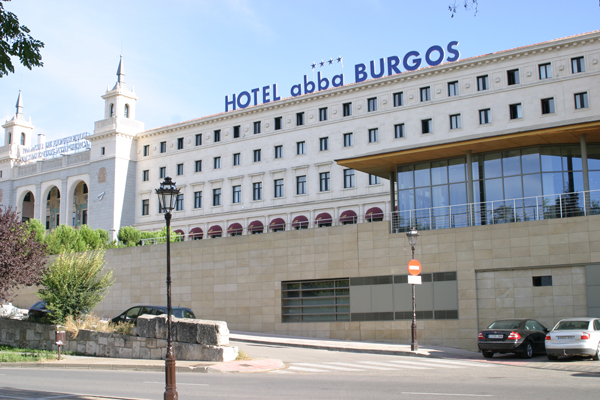 B&B in Burgos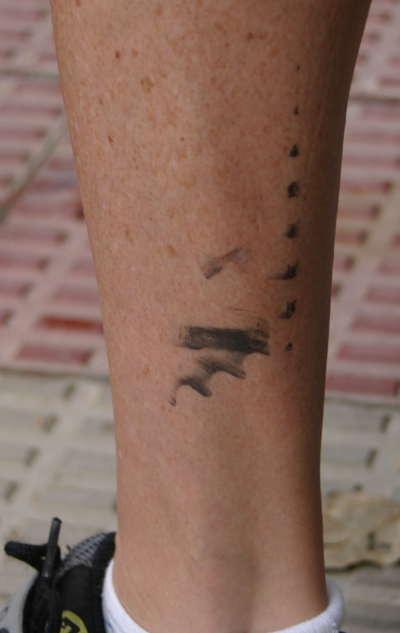 A chain tatoo, but whose shapely ankle?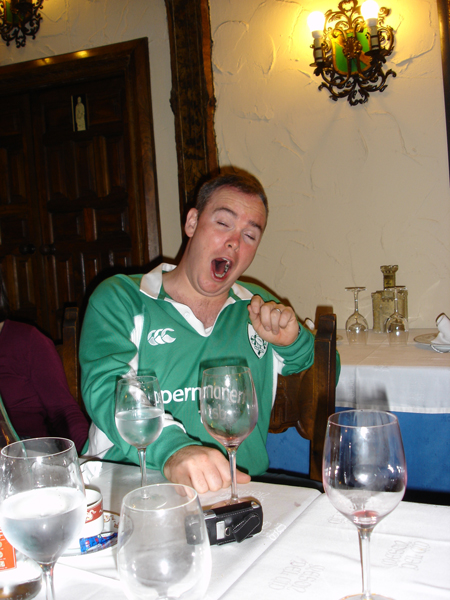 Gerry cries as he is refused more wine, or, sings Danny Boy
The walking pilgrim (Seamus)
Today Seamus and Jimmy had lunch with the group and Seamus walked in the last 19 km to the hotel. Mostly flat route, veered away from the road through some rather run-down area of Burgos.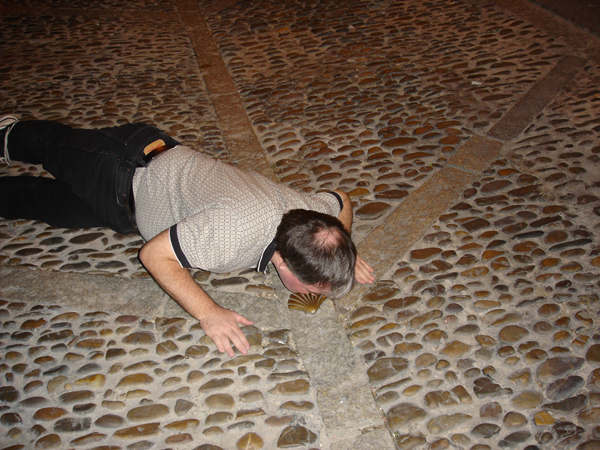 Coming home from dinner Seamus fails to keep his feet, but pretends to be kissing the camino symbol (note the pilgrim's tonsure)
Still hoping to insert Gerry's performance data here when it has been suitably massaged (more work required than expected).
Chickens and Saints
The cathedral at our lunch stop (Santa Domingo de la Calzada) contains a pair of caged live chickens.
This rlaltes back to a famed miracle. A young man travelling with his family on the pilgrimage was falsely accused of theft and was hanged in the city. His distraught family completed the pilgrimage. On their return they found that their son was still hanging on the gallows. However he was alive with his feet supported by none other than St. James himself.
They rushed to the house of the judge. He refused to be disturbed as he was just starting a lunch of two roast chickens. He suggested that if this story were true then the chaickens would rise from his plate and crow.
Gues what - they did, giving the town its motto "Donde la galina canto despues de asada" (when the hens crowed after being roasted)
It is considered lucky to find a chicken feather in the cathedral or to hear the chickens crowing.