Day 5 Diary
Stage 5 – Carrion De Los Condes - Leon 24/09/2006 - 110Km
Distance 63 miles (103km). Feet climbed 1640 Cyling Time 5 hrs 17
The day started wet and got worse. The cyclists donned their wet gear and splashed off up the road to Leon. After a detour courtesy of a local advisor (presumably the village idiot) they were back on the road. The van was out ahead and found them a coffee stop at Ledigos.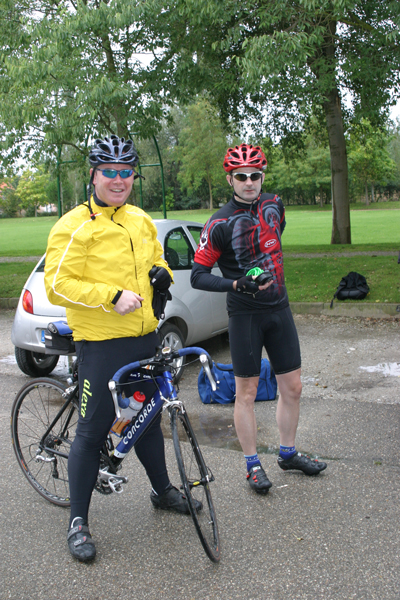 At the start Gerry practices stopping safely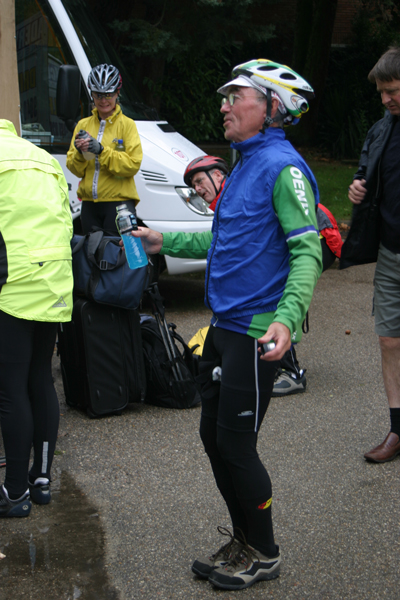 High on blue Epo, Barney leads a rendition of "The Irish cyclists' song"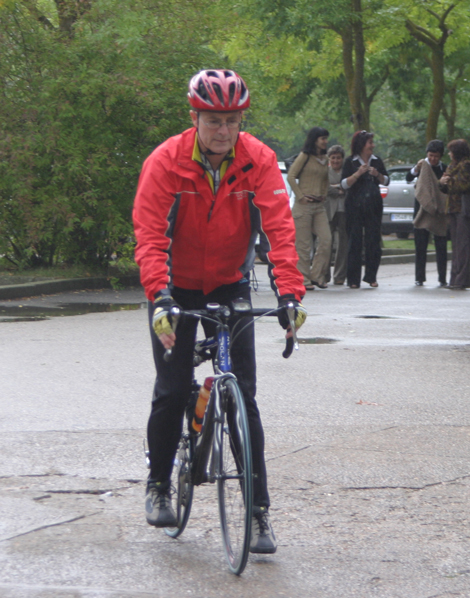 Stephen finds his balance a bit off after the night before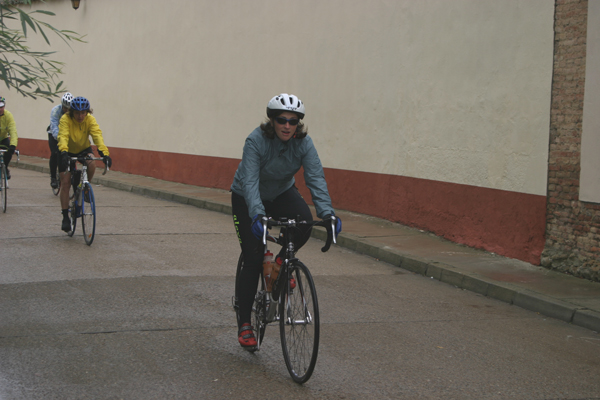 Suzie asks "Do we really have to go?"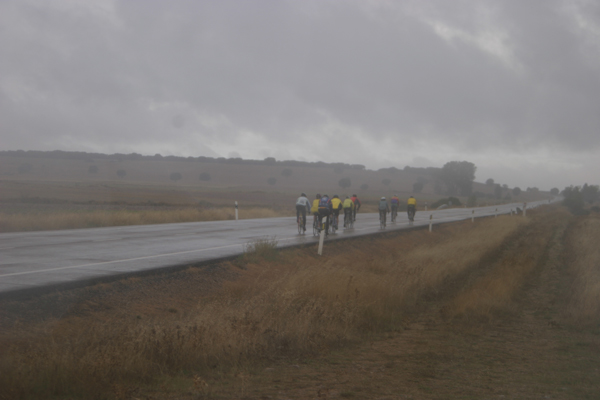 Off down the road, clearly lacking common sense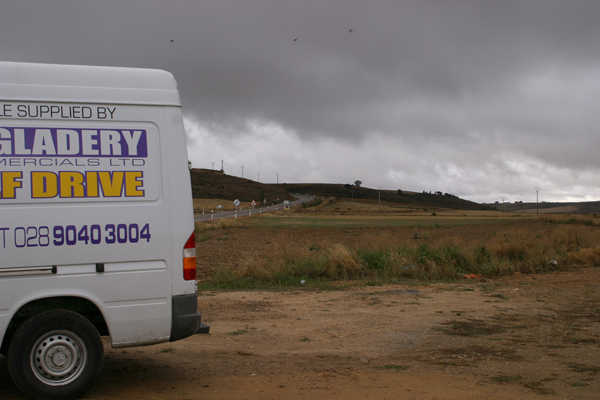 Vultures circle the road in dark cloud just before the coffee stop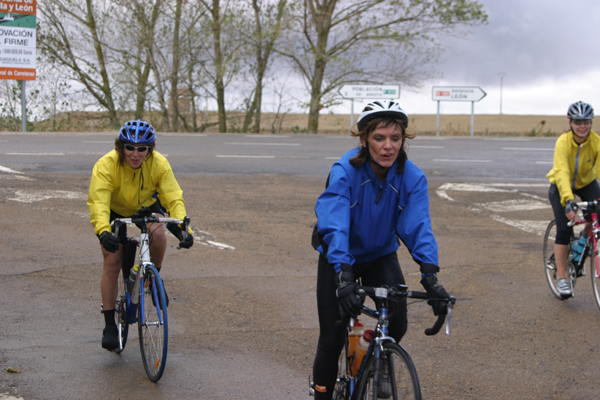 Oonagh looks forward to coffee, everyone is in agreement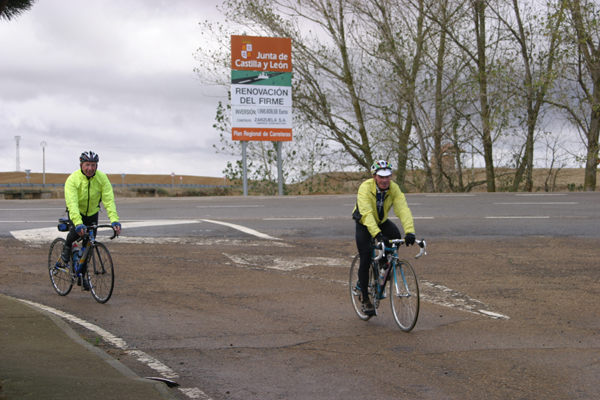 Barney and Frankie look forward to some heat and coffee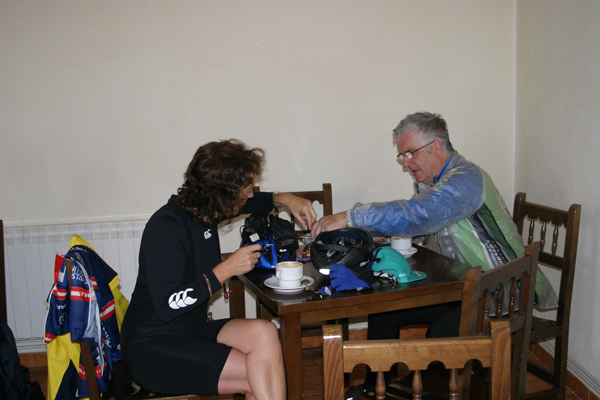 Larry fights with Suzie for the last scone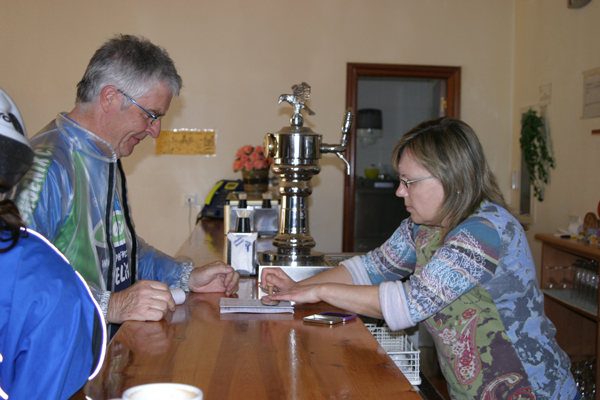 Stuffed with scones, Larry gets his passport stamped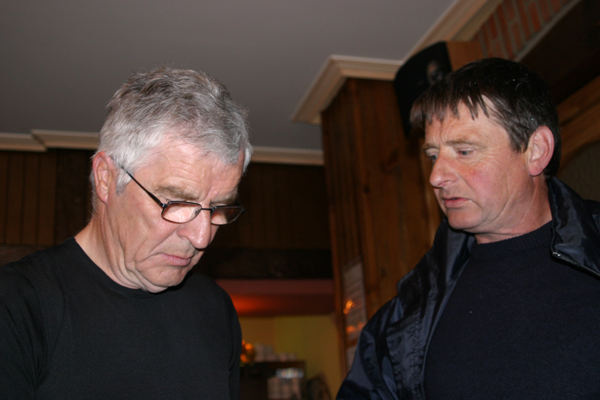 Jimmy reminds Larry that he must leave some scones for others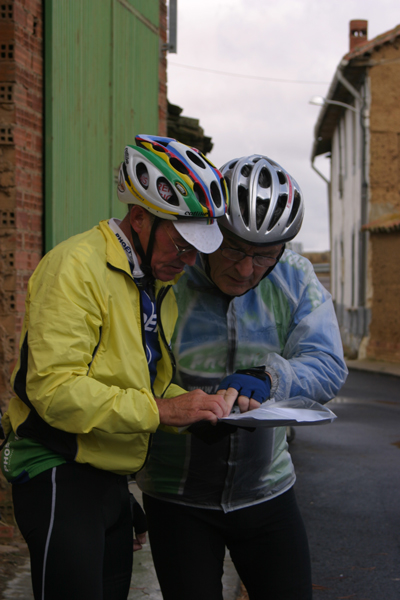 ,
Decision to delay lunch and push on, Barney doesnt know about the scones yet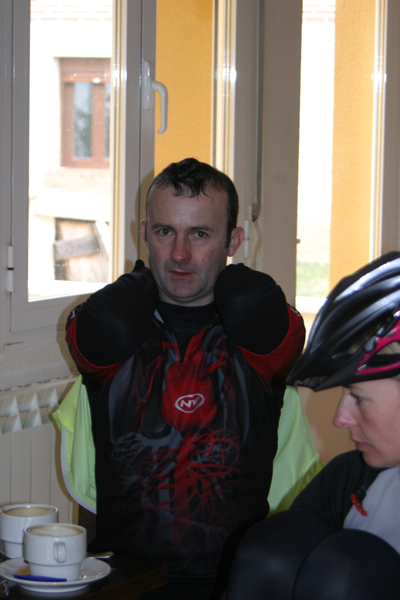 David complains about his sore neck again, Mairead wisely ignores him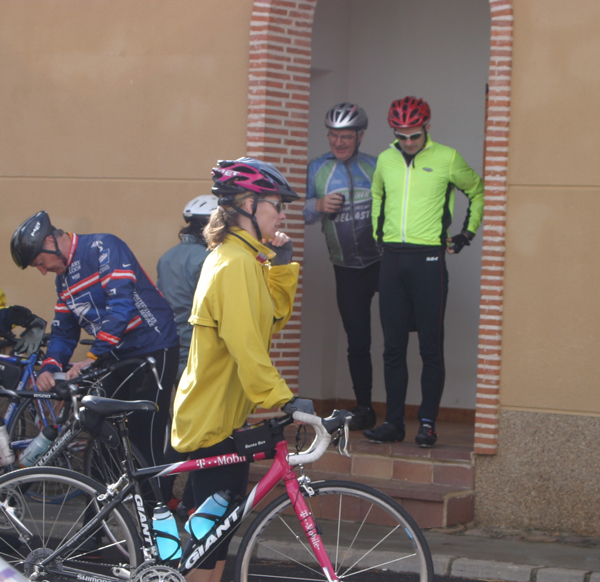 Larry gives David a kick in the behind for moaning about his neck all coffe break, no complaint from Mairead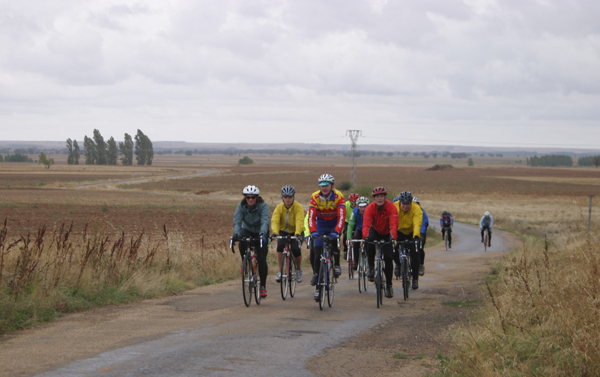 Coming in across a wild moor to El Burgo Ranero for lunch
It was decided to run past the planned lunch stop at Sahagun as the weather was worsening. The advance party in the van re-routed them to a small road alongside the camino and found a warm inviting restaurant packed with locals in Bercianos De Real Camino. A good lunch was had by all and they were fairly quickly on the cold wet road again.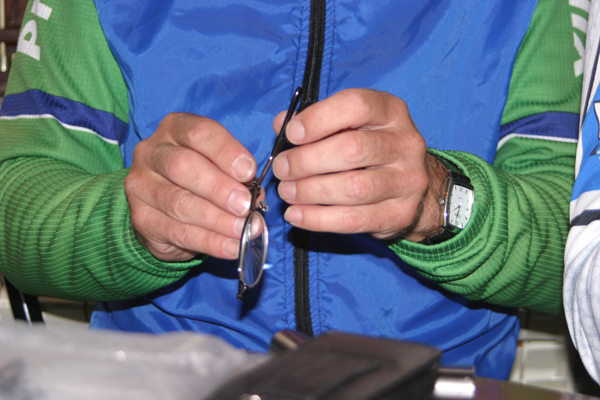 After hearing about Larry's and the scones, Barney delivers the terrible punishment of formally breaking Larry's glasses.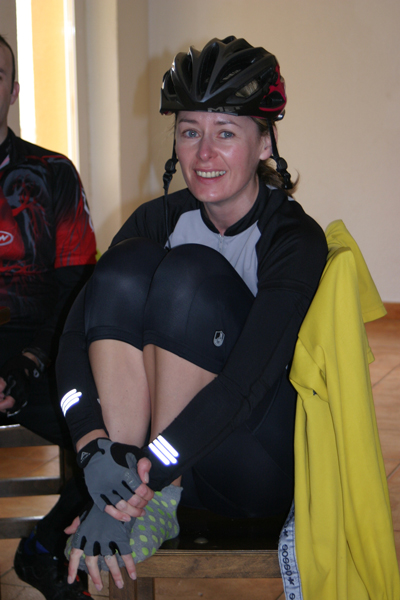 Glad to be indoors Mairead struggles to keep warm and counts the toes she can't feel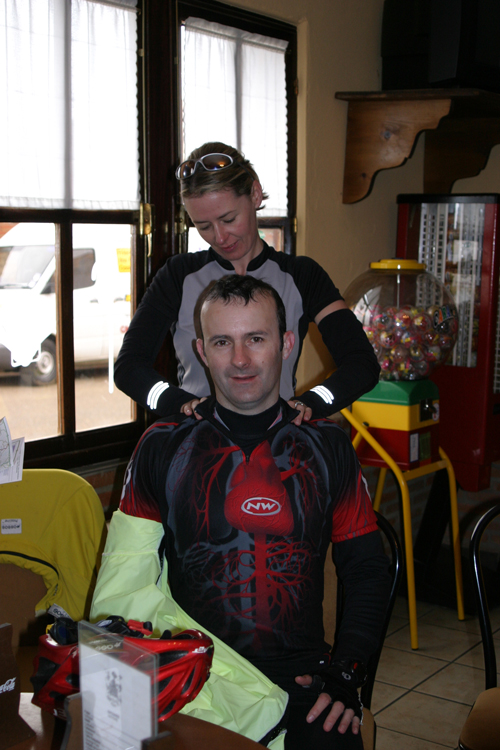 Mairead takes pity on David and delivers a much-needed massage, David's heart swells with gratitude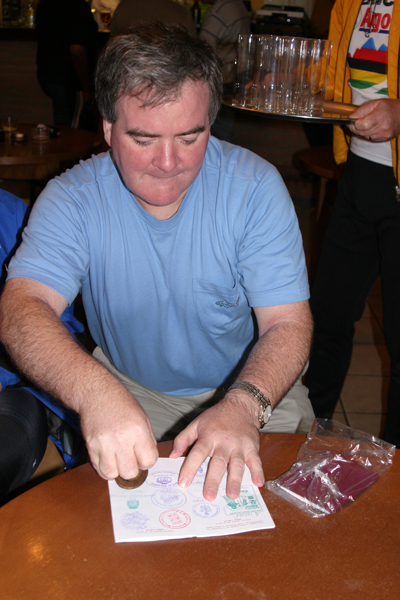 Seamus finds co-ordination of passport stamp difficult due either to cold or to liquid lunch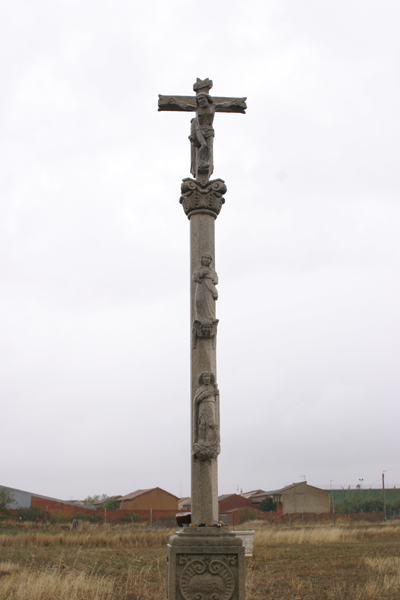 pilgrim cross in El Burgo Haveron (one of many along the route)
Singing was required in the ranks to keep the spirits in tolerable order. The van men led them through the next awkward town of El Burgo Haveron and they soon reached the main road at Mansille de Mueltas, having negotiated several large potholes on the way. Now they turned up the near-deserted main road in a tailwind and sweptover the hill known as the mulekiller with barely a pause, and into Leon in a flurry of spray and hypothermia. The rest stop had been reached and over 300 miles completed to date with over 16,000 feet of climbing accomplished. A quiet celebration ensued with the rest day to come.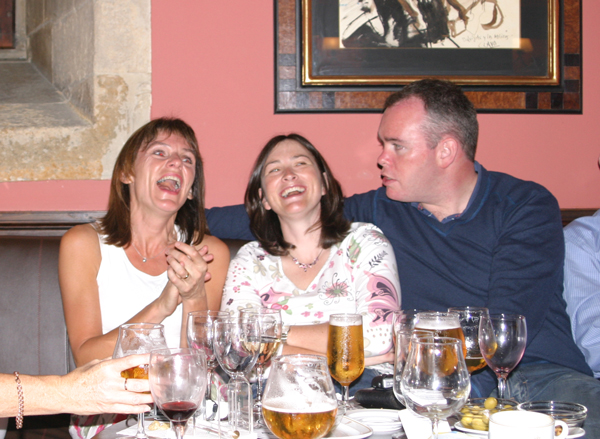 At the Parador, Gerry goes one better than Mairead and massages both Oonagh and Suzie at the same time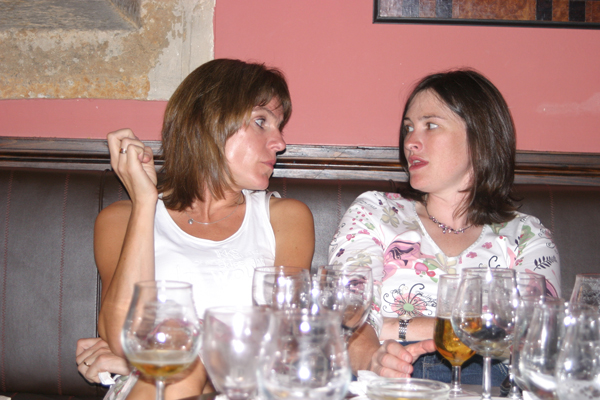 Oonagh tells Suzie exactly where Gerry had his hand!
After a long soak most cyclists recovered and we went by taxi to a restaurant in central Leon. The server was the owner's son and was very keen to assist our meal. We were in conversation with two retired Americans from Chicago, called Tom and John, both with German descent. They were highly enthusiastic and joined in our celebrations and singing. Both made kind donations to our cause and we promised to figure them on our website - so there they are. We undertook to watch out for them again as they were skipping the various bits with their group.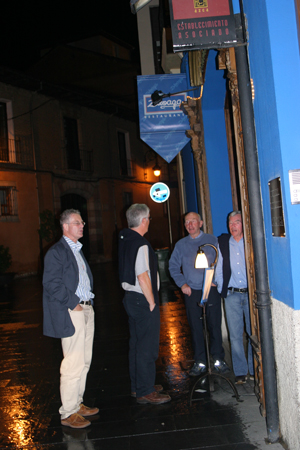 Arriving for dinner in Leon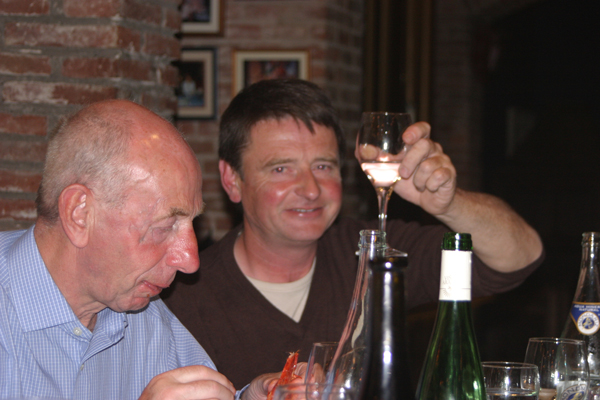 Jimmy toasts the Americans as Frankie tucks in to octopus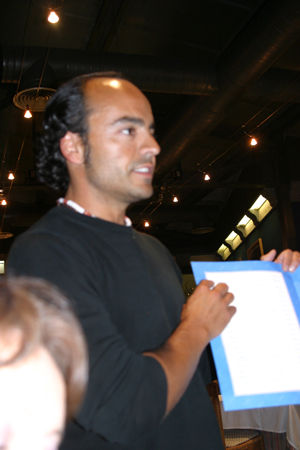 perfect explanation of the menu
Jimmy informs the waitress that he can get better octopus in Sandy Row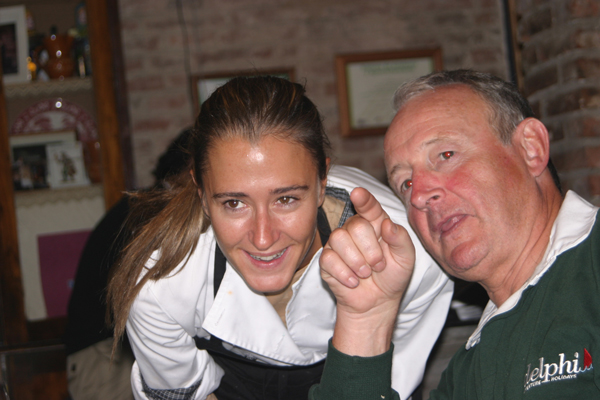 Justine, our perfect hostess, now listens to Paul's lecture on fitting compact chainsets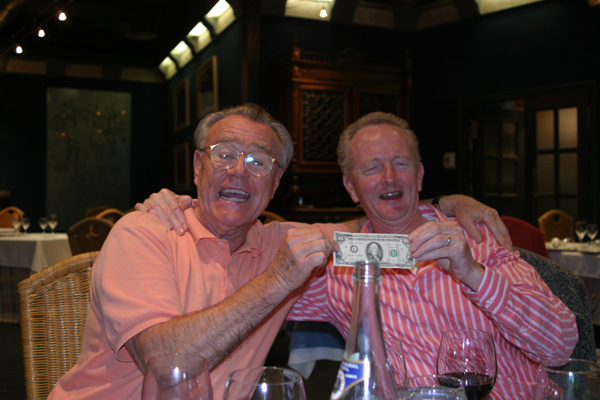 Turlough gratefully accepts a one hundred dollar donation from Tom, our US buddy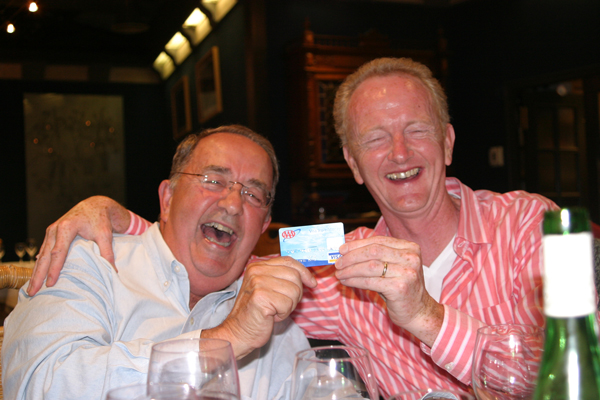 Turlough, a little tired looking?, goes for the jugular with John, also from Chicago as he also makes a generous donation to the Friends of the Cancer Centre.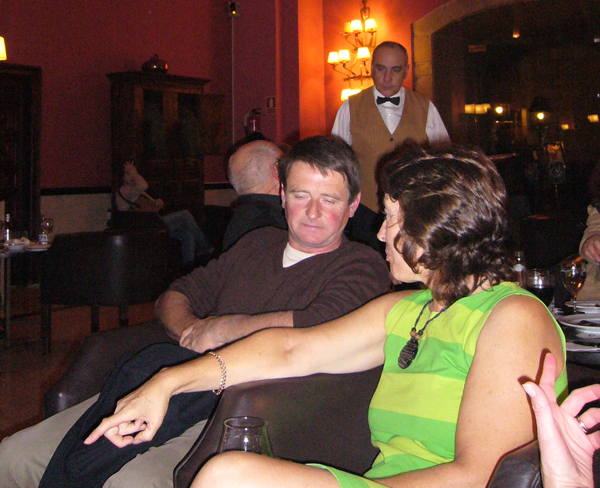 Jimmy grits teeth and studiously ignores "mammy" Suzie's instruction about where not to put his feet . The waiter stands by to break up any fight
The walking pilgrim (Seamus).
After lunch Seamus was left off in the rain near Mansille de Mueltas and walked in 19 km through pouring rain. He arrived at the Parador bedraggled and soaked but happy to achieved his day's walk. The distance walked to date is 54.5 miles in 5 days. No camera because of pouring rain.
Here I hope to insert Gerry's performance data when it has been suitably massaged
McGladery
Commercials
20-22 Prince Regent St.
Belfast
BT5 6QR
028 9040 3004
Agnew Recovery Services Ballyclare
Carryduff Tyre Services
Carryduff